Car Accident Treatment with Neurological Chiropractic
Car Accident Treatment with Neurological Chiropractic
Written By Russo Chiropractic on November 2, 2020
---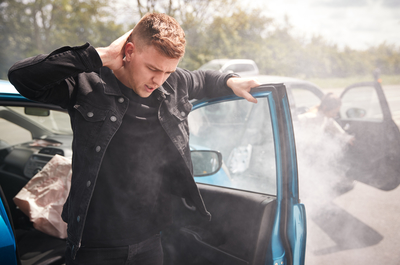 Have you recently been injured or experienced whiplash from a car accident? You're not alone. With an average of 6 million car accidents per year and an additional 3 million injured in the United States, car accidents are an unfortunate reality for many drivers, passengers, and road users.
Even if you don't feel immediate pain, seeking medical treatment from an auto accident chiropractor helps you be proactive against whiplash and other related injuries. Untreated neck and back pain from car accidents can develop into muscle or joint degeneration, which can lead to long-lasting problems.
The Truth About Whiplash
Whiplash, a common auto accident injury, occurs from force "whipping" your neck forward and backward. While you may not experience pain right away, the force stretches your ligaments and misaligns your cervical spine. Symptoms and injuries of whiplash include:
Neck pain
Back pain
Shoulder pain
Muscle tenderness
Muscle spasms
Dizziness or vertigo
Fatigue
Brain Fog
Numbness or tingling
Headache or migraine
If you believe you have whiplash, seeing an auto accident chiropractor can help address your symptoms at the root cause and prevent any future damage without surgery.
How Neurological Chiropractic Treats Auto Injuries
Neurological chiropractic treats the connection between the brain and spine to treat your nervous system's functionality after an injury. As a natural auto accident treatment option, your chiropractor focuses adjustments on specific areas of the brain to create balance and improve visual sensory information communication. Additionally, these adjustments realign the spine and help you return to your initial range of motion.
Following a car accident, your Tallahassee chiropractor will perform a comprehensive physical, medical history, and lifestyle exam to develop a holistic treatment plan that will provide long-lasting relief from pain. Recommended treatment plans may include:
Spinal manipulations

Neuromuscular Re-Education

Exercise and diet recommendations

Physical Therapy and Rehabilitation
Neurological chiropractors look at the whole person, not just the pain. When you visit an auto accident chiropractor, your treatment plan will be tailored to your needs to reduce your pain and increase your body's ability to heal itself.
Discover an Auto Accident Chiropractor in Tallahassee
If you were in a recent car accident, you need to receive medical treatment for your whiplash – no matter how minor it may seem. Dr. Fred Russo, CCSP with 28 years experience, will help you regain your body's normal range of motion and reduce your overall pain by focusing on the neurological connection with your muscles for optimal recovery and function. at Russo Chiropractic will help you regain your body's range of motion and reduce your overall pain by focusing on your neurological connection
Don't let whiplash cause you more pain. Schedule a call with Russo Chiropractic today! 422-BACK

Posted In: Whiplash Treatment Neurological Chiropractic Auto Injury Treatment