Healing Work-Related Lifting Injuries with Chiropractic
Healing Work-Related Lifting Injuries with Chiropractic
Written By Russo Chiropractic on March 5, 2020
---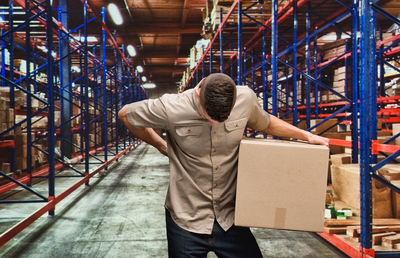 Work-related injuries are all too common, and they can result in severe complications and even be fatal in some cases. In 2018, there were a recorded 2.8 million nonfatal workplace injuries and illnesses. Of those injuries, some of the most common were falls, items being dropped on individuals and lifting injuries. Treatment isn't always sought out following these work-related injuries, and that can sometimes lead to more time off work and severe physical consequences.
Lifting injuries are often caused by overexertion, straining of the back and neck muscles, and repetition of these poor practices. While back and neck problems can be the result of everyday wear and tear, these constant stresses on the body can lead to lifting injuries and when not treated immediately, can lead to long-term damage.
Chiropractic Care as a Viable Lifting Injury Treatment
While individuals will seek out their primary care providers for pain management, many of the solutions often revolve around masking the pain, not treating the source of it. Chiropractic care, on the other hand, works at the source of your pain, allowing for not only pain management but proper lifting injury treatment.
Before Dr. Fred Russo begins devising your unique lifting injury treatment plan, they will begin by assessing your overall health history, your posture and may even take some x-rays to rule out anything that may require immediate medical attention.
Once significant conditions are eliminated (such as those that may require surgery), your chiropractor will begin creating a treatment plan to not only address the lifting injury but also help control your back or neck pain for the long-term.
Typical forms of chiropractic treatment for lifting injuries include:
Manual manipulation of the spine
Massage therapy
Physical therapy
Work-Related Lifting Injury Treatment Done Right
Work-related injuries are tough. However, when a lifting injury treatment isn't sought out right away, further damage can be done, resulting in longer times off work and other long-term disabilities. The professional team at Russo Chiropractic understands that your time is precious, so don't wait and let your pain get worse.
If you've recently suffered from a work-related injury and think you may need a lifting injury treatment, then contact our office today.

Posted In: Chiropractic Work-Related Injuries Lifting Injury Treatment