Improving Your Immune System by Making Good Choices
Improving Your Immune System by Making Good Choices
Written By Russo Chiropractic on April 17, 2020
---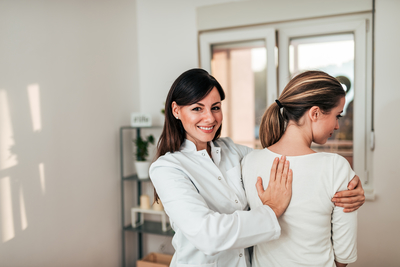 You may know that making good choices in your lifestyle can improve your immune system and is key to reducing your risk of illness.
However, you may not know that improving your immune system by making good choices should also include wellness checks with your Tallahassee chiropractor.
Spinal Health is Essential to a Well-Rounded Wellness Program
With over 25 years of experience, Dr. Fred Russo understands that when your back is out of alignment, a healthy lifestyle can seem impossible. This pain can poorly impact your mental health, which can wreak havoc on your immune system.
Russo Chiropractic will customize your care plan for your goals while addressing and preventing joint deterioration and injuries that can lead to arthritis, poor physical health, and decrease your body's immune functions.
How does Chiropractic Care Support the Immune System?
The immune system is a delicate balance of nutritional, physical, mental, and emotional health. Your physical health is only as good as your spinal alignment. How does chiropractic care support the immune system?
By maintaining proper spinal alignment, your body will be better able to withstand the demands of physical exercise programs which are essential in maintaining a strong defense against postural strain and subsequent spinal deformity which are common underlying causes that weakens your immune system.
Fitness and Exercise Programs to Support Overall Wellness
We recommend that every client who visits Russo Chiropractic take advantage of our fitness and exercise programs to support their overall wellness and spinal health.
We pride ourselves in creating individualized training programs for each client by targeting training in specific areas that could help to improve your strength, flexibility, and health.
Regardless of your fitness concerns, we will help to strengthen major muscle groups that will help you to finally achieve a more active lifestyle with some of our proven programs:
Low Back/Core Training
Women's Weight Training
Weight Training for Elderly Patients
Balance Training
Our individualized programs will get you back outside to enjoy the activities that you love, boosting your mental wellness, and promoting a strong immune system.
Russo Chiropractic: Your Ally in Improving Your Immune System
Whether you're recovering from an injury or want to add general chiropractic to your wellness plan, Russo Chiropractic in Tallahassee is the right choice to improving your immune system and overall health.
Could your spinal health help to boost your immune system? Contact Russo Chiropractic at (850) 422-2225 to schedule a consultation and take the first step to better health.

Posted In: Chiropractic Spinal Decompression Improving Immune System